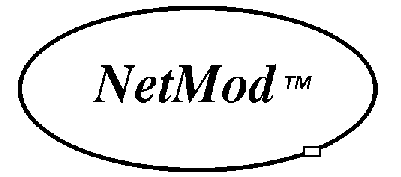 NetMod is no longer in circulation
A powerful, easy-to-use, Network Modeling tool
A
demonstration version
is also available for downloading.
---
NetMod takes the guesswork out of network planning by enabling network designers to:
Quickly and easily generate complex network configurations.
Quantitatively evaluate alternatives.
Systematically approach network system analysis.
Quickly identify potential network bottlenecks.
Make better-informed decisions.
NetMod is a useful tool for many stages of network design:
In the planning and design stages, NetMod helps you make decisions about which network components and configurations make the most sense for your needs.
In the performance and evaluation stages, NetMod helps you spot bottlenecks and predict potential problems as the needs of your user base change.
With NetMod you can quickly and proactively evaluate numerous, complex network configurations. For example, you can determine the performance impact of replacing a bridge with a router on a T1 link prior to buying or installing the equipment or service.
---
NetMod is an affordable, easy-to-use network capacity planning tool that quickly generates and evaluates complex network architectures. NetMod does the number- crunching for you, eliminating the complexity and the rigor of calculations. It has been verified by both simulation models and production networks running at the University of Michigan. NetMod applies mathematical (questioning) models that use closed-form analytical techniques to calculate component utilization, throughput, and packet delays.
NetMod is pre-configured with the knowledge of interactions among the most popular network components. NetMod includes models for network technologies such as token rings, Ethernet, metropolitan, and wide-area networks; individual or groups of computers and engineering workstations; and special network interface components such as routers, bridges, and point-to- point links.
With an easy-to-use interface, NetMod enables you to answer questions such as:
What is the impact of adding five more workstations to a subnetwork?
Should migration from Ethernet to an FDDI backbone take place?
What can be done to improve the performance of a department's network application?
Should bridges be replaced with routers?
What will happen if a link between cities changes from 56K to T1?
A
sample NetMod screen
for Windows.
---
PC System Requirements:
IBM PC or compatible running Microsoft Windows 3.1 or later.
At least one megabyte of RAM
At least 10 megabytes of hard disk space.
Macintosh System Requirements:
A Macintosh Classic, SE LC, II, Quadra, or Powerbook computer, running system version 6.05 or later, including System 7.
At least one megabyte of memory (RAM).
At least 1 megabyte of hard disk space.
HyperCard software
---
Commercial cost for NetMod is $500.00 An academic discount is available for colleges and universities. To order, contact:


University of Michigan Software
Technology Management Office
Wolverine Tower, Room 2017
3003 South State Street
Ann Arbor, Michigan 48109-1280 U.S.A.
Voice: +1 734/936-0435
Fax: +1 734/936-1330
email: um-software@umich.edu
---
NetMod is a trademark of the Regents of the University of Michigan. Other brands and product names appearing herein may be trademarks or registered trademarks of third parties.
---
The Regents of the University: Deane Baker (Ann Arbor), Lawrence B. Deitch (Bloomfield Hills), Daniel D. Horning (Grand Haven), Shirley M. McFee (Battle Creek), Rebecca McGowan (Ann Arbor), Andrea Fischer Newman (Ann Arbor), Philip H. Power (Ann Arbor), Nellie M. Varner (Detroit), James J. Duderstadt, president (ex officio).